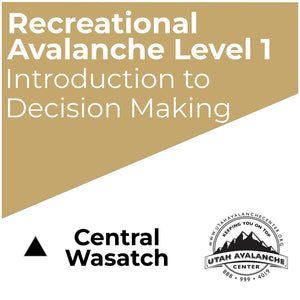 Dates: December 15-17, 2023
Location: Central Wasatch
Course Description
The Prival Recreational Level 1 is a three-day / 24-hour course. This course will provide an introduction to travel in and avoidance of avalanche terrain. Students can expect to learn and practice terrain, weather and snowpack skills used in backcountry travel.
An emphasis is placed on fundamental group decision making before entering the field, as well as "on the fly" adjustments and assessments during field travel. Case studies and cooperative group communication skills address the many human factors that can help to avoid accidents. Students will also practice basic partner rescue skills.
Who should take this course?
Winter backcountry travelers with some knowledge of or prior avalanche training and backcountry experience. A Previously completed UAC 101 or equivalent course is recommended. The Prival Avalanche Awareness and Companion Rescue Course and a minimum of one day of guided backcountry riding would alternately be a great starting point.
Aspiring professionals will need to take a AAA approved Level 1 and 8 hour Avalanche Rescue as a prerequisite for the Pro 1 course.
Course Requirements

Students must be prepared to travel in avalanche terrain on skis, spitboard, snowshoes or snowmobiles and bring appropriate equipment for traveling in winter weather conditions for three consecutive days.
Ability Level:
To take this course we strongly recommend that you are at least an intermediate to advanced level downhill skier or snowboarder. That means you are capable and comfortable riding black-diamond slopes within a resort boundary in difficult snow conditions on your same touring equipment.  In order to maximize the course experience for you and all students, we recommend that you be fit enough to spend the field-days hiking uphill with skins on and descending slopes in variable snow conditions.
 *Prival Course curricula is recognized by the American Avalanche Association.