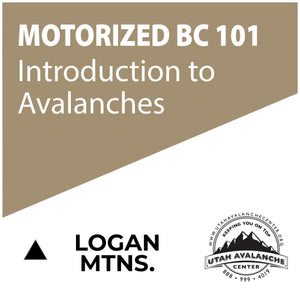 Location: Logan Mtns.
Date: February 23, 2024
Time: 1800-2000 MST
Date: February 24, 2024
Time: 0800-1600 MST
Course Description
At the Utah Avalanche Center, we aim to help riders stay on top of the greatest snow on earth instead of being buried below it. Avoiding avalanches is easy if you know what to look for. During the course, we'll teach students how to recognize avalanche terrain, how to interpret and apply the daily avalanche forecast, how to travel safely, and how to use your rescue equipment if an accident occurs. This course is designed to be your first step toward avalanche education. It is not a Recreational Level 1 avalanche course but is the proper stepping stone in building the right foundation of knowledge. Education is most effective when it's broken down into small portions, and that is what we aim to do.
As a backcountry rider, we want to make sure you are completely prepared when you head into the mountains. That means knowing how to avoid getting caught in avalanches. Snowmobilers are the fastest-growing population of users involved in avalanche fatalities. Our machines and our riding ability allow us to travel nearly anywhere in the mountains. Because of that, we need to be able to understand and identify avalanche terrain and utilize the avalanche forecast. The fact is we can cover over 100 times more terrain in a single day than any skier or snowboarder can, so if an avalanche problem exists, we're much more likely to find it. Taking a class is the best way to learn about avalanches and how to avoid them.
Who should take this course?
This class is for snowmobile and timber sled riders entering the backcountry in winter. This course can serve as a refresher for those who have previously taken formal avalanche courses and are looking to refresh their skills and learn the most up-to-date information and techniques.
What is required for this course?
This is an introductory level course and, therefore, can be your first avalanche education course. For this course, you are required to provide your machine. You'll also need to provide your own avalanche rescue equipment.
Course Goals
Describe the equipment necessary for winter backcountry travel.

Recognize that most fatal avalanche accidents are triggered by the people involved and that preparation and training before backcountry travel can save lives.

Find and interpret local mountain weather forecasts and avalanche advisory information.

Differentiate avalanche terrain from terrain where avalanches can not occur.

Describe a basic process to manage risk for winter backcountry travel.
Upon order completion, you will be notified with details to access course materials and student resources.
Cancellation policy
Our cancellation policy can be found here.
If you have any questions, please email education@utahavalanchecenter.org