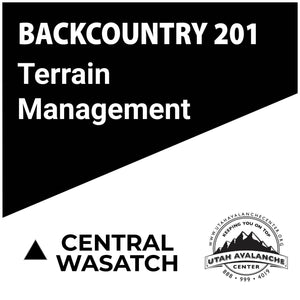 Location: Central Wasatch
Date: January 10
Time: 1800-2000 MST
Date: January 11
Time: 0800-1700 MST
Date: January 12
Time: 0800-1600 MST
Course Description
Do you feel that you have solid fundamental knowledge of the backcountry but aren't sure how to put it all together to formulate a trip plan? Have you taken an avalanche course in the past but feel that you need a refresher? Our Backcountry 201 course is the perfect avalanche class for you! It is essential that each member of a backcountry party can help make informed group decisions and feel confident contributing to a route plan. In this course, you will spend two evenings in the classroom and two full days on the snow, learning to use weather data, the avalanche forecast, public observations, and snowpit data to plan your day in the mountains and safely return home.
After signing up for this course, you will be sent the pre-course learning modules to complete on your own time. This pre-course work will explore the different avalanche problem types, how to assess your risk in the mountains, how to utilize public and open-source weather and avalanche data, terrain management, and more.
In the classroom, you will break down each avalanche problem type and learn how they affect travel recommendations, learn how to utilize weather data and the avalanche forecast to help your group make informed decisions on where to go in the mountains, learn how to minimize your risk by utilizing mapping tools to assess terrain, and more.
On the snow, you will spend the first field day assessing the snowpack on many different aspects and elevations to better understand snow layering in the area. That evening in the classroom, your field group will work together to make a trip plan for the following field day with the help of your instructor. On the final field day, you will put your group's trip plan into action while making constant snowpack observations and practicing safe travel protocol.
Who should take this course?
This course is designed for those with prior fundamental knowledge and experience in the backcountry. You are expected to be familiar with your equipment and their functions, as well as have prior experience in the backcountry.  This course also serves as a refresher for those who have previously taken a formal avalanche course and are looking to refresh their skills and learn the most up-to-date information and techniques. 
Advanced downhill riding ability is required for this course as it is essential to staying safe in the backcountry. You should be able to ride a black diamond in variable snow conditions. To maximize the course experience for you and all students, we recommend that you be fit enough to spend two days hiking uphill with skins and descending slopes in variable snow conditions.
What is required for this course?
For this course, you are required to provide your own skis with alpine touring bindings and climbing skins or a split board with climbing skins. We do not allow snowshoes for this course. You'll also need to provide your own avalanche rescue equipment.
Cancellation policy
Our cancellation policy can be found here.
If you have any questions, please email education@utahavalanchecenter.org