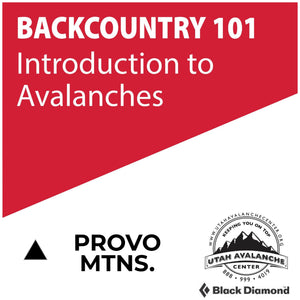 Location: Provo Mountains
Date: January 18, 2024
Time: 1800-2000 MST
Date: January 19, 2024
Time: 0800-1600 MST
Course Overview
Riding in the backcountry is safer and more enjoyable when you understand avalanche hazards and how to move through the mountains safely. If you want to feel more confident in making decisions on avalanche risk and become a valuable member to your backcountry partners, this is the class for you. With mixed learning in the classroom and on the snow with professional avalanche educators, you will learn how to travel safely in the backcountry while having fun and returning home safely.
After signing up for this course, you will be sent the pre-course learning modules to complete on your own time. This pre-course work will explain avalanche characteristics, snowpack fundamentals, clues to instability, terrain assessment, safe travel protocol, avalanche rescue, and decision-making techniques.
During the class session, we will review all the pre-course work while diving deep into how weather and terrain affect your risk in the mountains. On your field day, we will spend the day applying the avalanche forecast, practicing terrain identification, and applying decision-making strategies that help keep us safe. We encourage all participants to register for a 4-hour Intro Avalanche Rescue Course or an 8-hour Avalanche Rescue Course in addition to this course to be better prepared.
Who should take this course?
This class is for skiers & snowboarders as an introductory course for those new to the backcountry. Intermediate to advanced downhill riding ability is required for this course as it is essential to staying safe in the backcountry. You should be able to ride a black diamond in variable snow conditions. We highly recommend that you have some uphill experience using your touring equipment i.e. transitioning your gear into uphill and downhill mode, turning your transceiver on/off into search mode, and assembling your probe and shovel. You can do this in safe areas away from avalanche terrain.
What is required for this course?
This is an introductory level course and, therefore, can be your first avalanche education course. However, you must provide your own skis or splitboard with alpine touring bindings and climbing skins. We do not allow snowshoes for this course. You should provide your own avalanche rescue equipment (if you need to borrow equipment, we can make arrangements).
Course Goals
Describe a fundamental process to manage risk for winter backcountry travel.

Find and interpret local mountain weather forecasts and avalanche advisory information.

Recognize the recipe for an avalanche while in a snowpit.

Describe the equipment necessary for winter backcountry travel.

Differentiate avalanche terrain from terrain where avalanches cannot occur.

Understand the basic functionality of avalanche rescue equipment.
*To maximize the course experience for you and all students, we recommend that you be fit enough to spend the day hiking uphill with skins on and descending slopes in unpredictable snow conditions.
Cancellation policy
Our cancellation policy can be found here.
If you have any questions, please email education@utahavalanchecenter.org