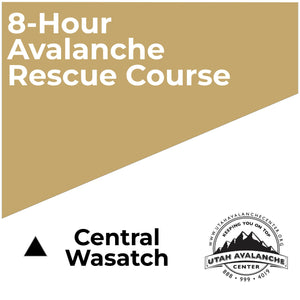 December 16th, 2023 
Location: Central Wasatch
Course Description
The Prival 8 hour Avalanche Rescue Course is a full-day course that should be taken at least bi-annually to keep rescue techniques, gear new industry standards current. New to Rescue? Learn the basics of companion rescue. Seasoned Backcountry traveler or professional? Refine and elaborate on skill sets with advanced topics and realistic scenario and triage practice.
Who should take this course?
The Avalanche Rescue Course is an 8 hour full day course for new and experienced recreational riders, and aspiring and current snow safety professionals. The 8 hour Avalanche Rescue course must be taken prior to attending the Level 2 and pro courses. Snow safety equipment required.
Learning Outcomes
Understand and describe the importance of anticipating and knowing when you are entering into avalanche terrain
Group Plan communication
Trailhead Checks
Travel Protocols
Understand and demonstrate priorities, actions to take if involved in an avalanche (as a victim or responder)
Demonstrate effective application of search techniques by leading or participating in companion rescue for one and two beacon burials within specified times and search areas
Understand and demonstrate methods and strategies used in locating burials without beacons -Describe likely medical issues to anticipate once buried victims are excavated
Understand the need for additional medical training
Understand how to request EMS resources and what to expect with larger ICS responses
*Prival course curricula is recognized by the American Avalanche Association.